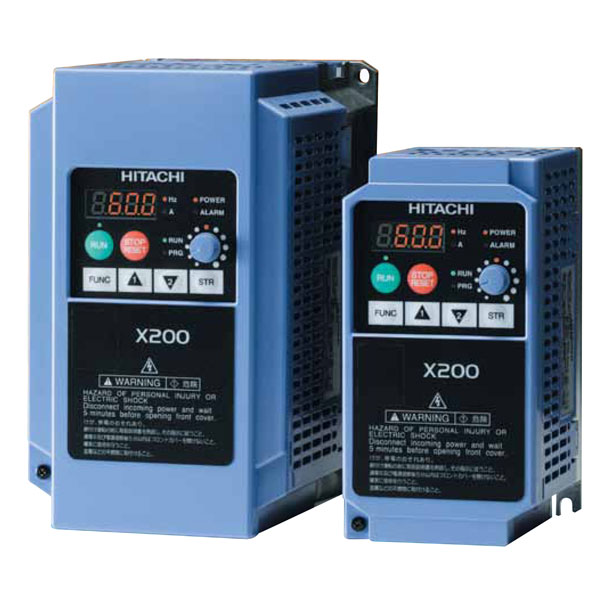 Hitachi Inverter Drives X200 Series
Authorized Master Dealer of Hitachi Inverters
Environmental Friendliness
Integrated EMC filter saves cost and space (European version only)
Single-phase input : EN61800-3 Cat.C1
Three-phase input: EN61800-3 Cat.C2
RoHS compliance for all models
Micro Surge Voltage suppress function
Varnish coating of internal PC boards is standard, for longer life in harsh environments.
Useful fan and pump functions
Improved Trip Avoidance Function (Over-current, over-voltage)
Automatic energy-saving function delivers "realtime" energy-saving operation for fan and pump applications.
Improved PID control
Allows for smooth restart when an IPF (Instantaneous Power Failure) occurs. This is especially useful in fan and pump applications.
Ease of Maintenance and space reduction
Easily replaceable cooling fan
Cooling fan ON/OFF control extends fan life
Side-by-side installation
Safe Stop Function. (EN954-1 : 1997, Cat.3, EN60204-1 : 1997 Cat.0)
Global Performance
CE, UL, c-UL and c-Tick approvals
Logic input terminal apply sink and source logic
Wide Input power voltage range
(Input voltage 200V to 240V for 200V class and 480V for 400V class as standard)
RS-485 is provided as standard for Modbus® RTU serial communication